It All Starts With An Absolutely Amazing Facility!
| | |
| --- | --- |
| Dog Boarding | Safe, Soft Play |
| Dog Day Care | Bathing |
| Puppy Socialization | Pick Up & Delivery |
| Training | Expert Supervision |
We're nestled in a canyon of Mt. Diablo on 5.5 acres in rural Clayton on the site of the old Curry Creek Park. This place has been fun from the very beginning. For directions, click here.
This is the most amazing facility in California. We picked this spot because it was perfect for the dogs. What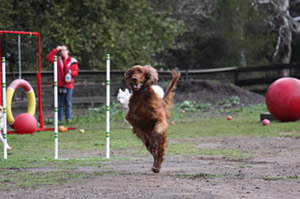 makes it perfect? Huge amounts of space, tons of shade, and a beautiful constant breeze. It does take an extra 15 minutes to get here but if you love your dog it's well worth it! Large play areas mean increased safety, fresh air and good health. We can actually play extensively with toys, balls and all sorts of things because our amazing facility allows us to. It makes a big difference to have so much space. If dogs are crowded you need to do very little as crowding increases arousal and is unsafe.
We absolutely love our place and we think you and your dog will too.
Because of our huge play areas and our focus on safe dogs, we are able to fill our play areas with tons of toys and actually play throughout the day.
Our largest play area is almost 3/4 acre but we have 4 other large areas as well. Wow!
After a fun filled day, your dog will rest peacefully in our cozy, climate controlled building.
Long term campers may even get to skinny dip in our creek or hike among our hills.
We thank our lucky stars for our bathing area for cleanup after a busy day of camping in the country.
We will also be happy to take your dog to one of the local professional groomers for spiffing up before going home. Just think - you'll be coming home to a happy, well socialized, well exercised, clean dog! WOW!!